Kat Graham på "The Ellen Degeneres Show"
Vad tycker ni om framträdandet? :)
---
Michael Trevino och Paul Wesley om säsong 4
---
Vampire Diaries gänget på CW Upfronts 2012
Igår var Nina Dobrev, Paul Wesley, Kat Graham, Ian Somerhalder, Candice Accola, Michael Trevino, Steven R McQueen och Zach Roerig på CW Upfronts. Matt Davis var också där, men han lanserade sin nya serie "Cult".
---
Got Milk?
Under Morsdag i USA vad Nina Dobrev och hennes mamma Michaela med på The Breakfast party event som hostades av Seventeen Magazine.
---
"The Departed" diskussion
OMG, säger jag bara! Vilket sjukt bra avsnitt och perfekt säsongsavslutning. Bonnie tog saker i egna händer. Hon hjälpte Klaus in i Tylers kropp, eftersom hon var trött på att göra vad alla andra säger hela tiden. Matt och Jeremy gjorde äntligen det jag tror de velat göra under en lång tid, dock så blev det lite misslyckat. Elena valde Stefan, men kommer det förändras nu när hon blir vampyr? Tycker det var enormt synd om Damon eftersom det var egentligen han som träffade henne först, och redan då gillade Elena honom. Vad säger ni om att Elena blev vampyr? Bra att hon valde att rädda Matt, men frågan är om hon ska genomgå transaktionen. Och vad finns det att säga om Elijah och Rebekah. Tycker det var lågt gjort av Elijah, jag menar han brukar ju alltid ångra sig och vara ärlig o.s.v Tycker dock det var gulligt när de kramade varandra och sörjde Niklaus. Längtar tills vi får se Kol!
---
Förhandstitt på säsongsfinalen "The Departed"
Åh, längtar ihjäl mig! Det stog att någon skulle dö i säsongsfinalen, någon som man inte förväntade sig. Som ni ser på förhandstitten vaknar Elena upp i sjukhus kläder, kan det då betyda att det var Matt som dog?
---
"The Departed" prewiev
Nu har två nya prewievs på säsongsfinalen kommit ut. En är med Damon och Bonnie och den andra med Elena, Matt och Stefan.
---
"Break On Through" 3X17, svensk takt!
Ikväll klockan 19:00 på TV6 visas ett nytt avsnitt av The Vampire Diaries, "Break On Through". Ett riktigt bra och spännande avsnitt, och det vill ni absolut inte missa!
A century after their first encounter, Damon and Sage meet again at the ceremony to kick-off the restoration of Wickery Bridge. Damon is surprised to learn the reason Sage has returned, and pleased when she devises an unusual method to help him figure out what Rebekah is up to. Abby is having a hard time adjusting to her new reality, despite Bonnie and Caroline's efforts to help.
When Damon informs Elena of Stefan's latest struggles, she reaches out to Stefan to help her save a friend in danger, in hopes that it will help bring Stefan even closer to his humanity. Finally, when Damon discovers a new secret weapon, he lets Stefan in on the news.
---
Vampire Diaries - Säsong 4
Nu är det äntligen klart att det kommer komma en fjärde säsong av Vampire Diaries. Med tanke på att serien har högst tittarsiffror på CW så är det inte så konstigt!
May 3, 2012 (Burbank, California) ─ The CW Network has given early pickups to the network's top-rated show, THE VAMPIRE DIARIES, fan favorite SUPERNATURAL, and the world's most-famous zip code, 90210, with all three series to return for the 2012-2013 season.
THE VAMPIRE DIARIES will return for a fourth season of bloody good drama this fall, SUPERNATURAL will mark its eighth season with the monster-hunting Winchester brothers on The CW, and on 90210, the gang from West Beverly will return for season five.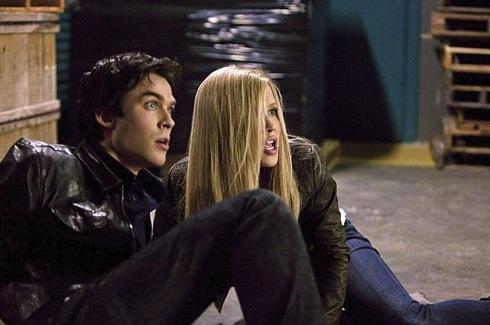 ---
Promo för "The Departed" 3X22, Spoilers!
Gud vad spännande denna säsongsfinalen kommer att bli! Elijah är tillbaka! Om man kollar på trailern ser det ut som om Elena och Matt kör av bron, precis som Elena gjorde med sina föräldrar för något år sedan. Hemskt att hon ska behöva gå igenom det igen, men det är väl då man kommer få se hur hennes liv såg ut då o.s.v, men kan detta betyda att Elena äntligen blir vampyr?
---
Stills från "The Departed"
---